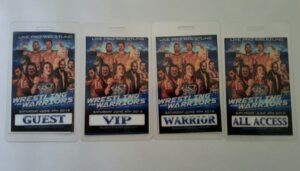 Now you can purchase your very own WFW laminate. We have limited quantities available of each so grab yours today. Once they're gone, they're gone.
We have them available in Guest, VIP, All Access and Warrior. "Working" passes also available (not pictured). Same layout, just says Working at the bottom.
We have these available for every show we have done… if you're looking for a specific show, just ask when ordering.
After adding item to your cart, click on Cart in the menu located at the top of your screen to finish checking out.