UPCOMING EVENTS –

April 28th, 2018 – Wrestling For Warriors and Tommy Dreamer's House of Hardcore, present an evening of Live Professional Wrestling to benefit children fighting against disability and life threatening illness. This promises to be the biggest pro wrestling event that Fort Wayne will see this year!!
Tickets Available Here – TICKETS
VIP Add On Available Here – VIP ADD ON (A regular ticket must also be purchased)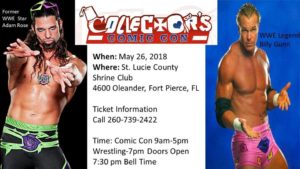 May 26th, 2018 – Ft. Pierce Florida. Collectors Comic Con has selected Wrestling For Warriors as one of the charities they support. In addition to some great comic illustrators, writers, publishers, you will also have the opportunity to see some great pro wrestling. Wrestling For Warriors has teamed up with Ronin Pro Wrestling in a great co-branded event. You will see many of Ronin Pro's talents performing as well as Billy Gunn and Adam Rose.
Tickets Available Here – TICKETS