"Wrestling For Warriors" is a non-profit company specializing in sports entertainment production. WFW was created for the purpose of raising funds and awareness for various childhood afflictions, sicknesses and diseases through one of the greatest forms of athleticism and entertainment on the planet.
In short, our goal is to organize and promote professional wrestling events that will help assist some pretty awesome kids.
"Wrestling For Warriors" is the vision of three unique individuals, coming from different walks of life, but brought together through their own triumphs over childhood illnesses:
Christopher Holt – President / C.E.O.
Christopher Holt is driven to help other people. After his young son was diagnosed with Neurofibromatosis Type 2,  a terminal illness that causes tumors to grow along nerve roots, Chris has unfortunately had to watch his son go through multiple surgeries and have his entire life altered because of it. Now knowing first hand how children can be affected after receiving a diagnosis like this, Chris has made it his personal mission to put smiles on their faces, whenever possible and to recognize them for bravely fighting against the odds.
Holt has spent 18 years of his life in the entertainment industry. He has toured with numerous National Artists and produced/promoted shows both on the local and national levels. Holt also has many years of being a small business owner.
Utilizing his experience and allowing himself to be driven by the convictions he feels deep within his heart for the Warriors out there, Holt instantly knew he needed to partner up with Greg and Zach to form Wrestling For Warriors.
---
Zach Gowen – Vice President of Talent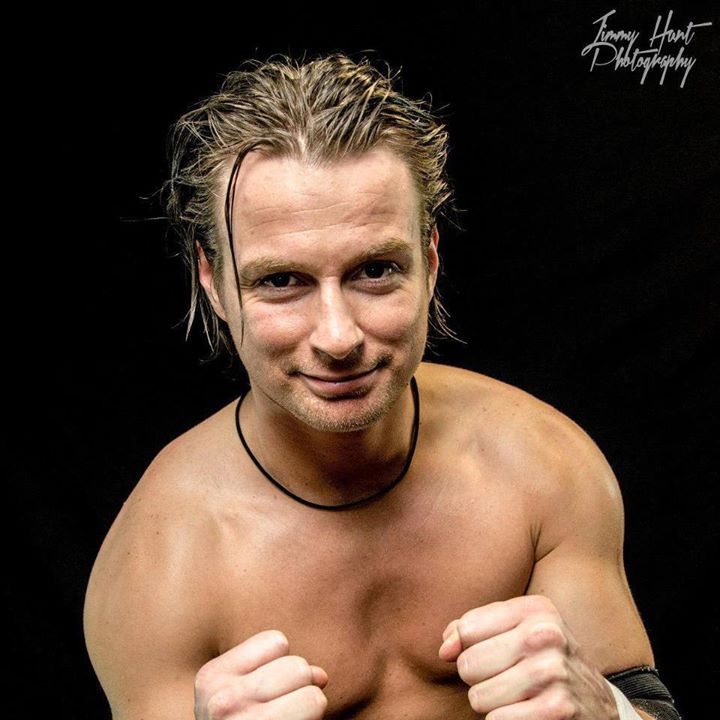 Zach Gowen is a survivor. After losing his left leg to cancer at age 8, he went on to become the first 1 legged professional wrestler in history. At 19 years old, he signed a 3 year contract with the World Wrestling Entertainment and was featured prominently on their television program Smackdown! being involved in on air story lines with cultural icons Hulk Hogan, Roddy Piper, Brock Lesnar and Vince McMahon. Zach became an instant inspiration to millions worldwide proving that nothing is impossible.
Zach continues to wrestle full time and has added motivational speaking as a platform to carry his message to kids worldwide! The fire in his belly burns for the desire to be of maximum service to God and to the people around him. Whether it's on stage at a speaking engagement or in the middle of a ring at a professional wrestling show, Zach's message is simple: We are not defined by what happens to us, we are defined by our response to what happens to us!
---
Gregory Iron – Vice President of Operations
Gregory Iron lives with cerebral palsy, a disability that has limited the use of his right arm, hand and fingers since he was born. Not only did Iron have to deal with C.P., but he also dealt with constant bullying, all while growing up in a violent, drug filled environment. Despite having the odds stacked against him, Iron decided to pursue professional wrestling after seeing one-legged wrestler Zach Gowen on WWE TV.
For over a decade, Iron has not only lived his dream as a sports entertainer, but has shared the ring with legends like former WWE Champion C.M. Punk, The Dudley Boyz, Rhino, and has formed the team of "The Handicapped Heroes," with Zach Gowen. When he's not wrestling or in the gym, Iron spends his time traveling the country doing motivational speaking to youth, as well as assisting the developmentally disabled at Murray Ridge Center in Elyria, Ohio.
---
Cassondra Geller – Treasurer
Cassondra has over 16 years as an Executive Administrative Assistant to some of the largest companies in the Ft. Wayne area. She brings with her a vast array of skills, some of which include arranging travel, customer service, data entry…etc.
Cassondra feels very strongly about helping these brave Warriors as her own nephew is battling Pediatric Cancer. That's why she has volunteered to join us in this fight.
Cassondra will be serving primarily as our Treasurer but with the many different skill-sets she possesses, I am certain her experience will prove valuable in other areas as well.
---
Trisha LaRowe – Sponsorship Director
Trisha is a legal assistant and a small business owner.
She is very driven to help young children who are afflicted with various illness and disability.
Trisha is taking on the role of Sponsorship Coordinator. She will be speaking with businesses about the mission of WFW, how sponsorships play a crucial role in what we do and the tax benefits companies receive by joining us in this fight.